Overview
Having delivered a successful event for the world's best triathletes in 2023, the PTO are returning to Ibiza in 2024 and this time, athletes of all abilities can take part in our open 100km race, which features a 2km sea swim, 80km closed-roads bike course and 18km waterfront run.
Race Course
*2023 race course – 2024 course subject to change.
The race will kick-off with a 2km sea swim from the classic triathlon host location of Figueretas Beach.

It's a well protected beach where surf is unlikely but the swim will still favour those athletes used to navigating the natural swell of ocean waters. Water temperature is likely to allow for wetsuits so those whose major strengths are bike and run could benefit from the buoyancy and speed of a wetsuit swim.

An Aussie exit between the two laps will give you athletes the chance to scope out the competition and is also an opportunity for a quick sprint up a couple of places or to get your breath back a little before diving back in.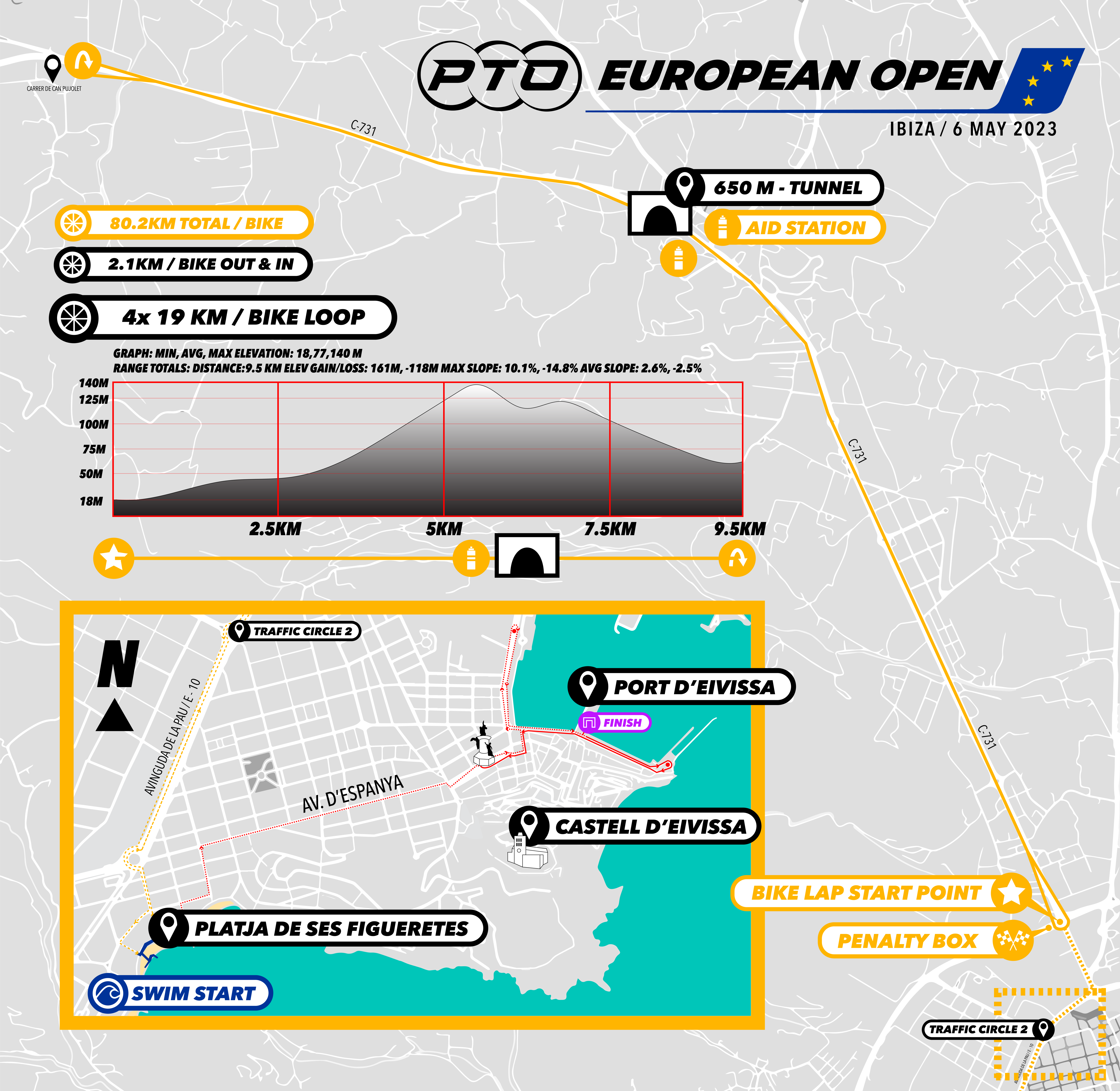 After a fast transition, things will heat-up under the Mediterranean sun on to the 80km bike course, which heads out of Ibiza Town where the first of four 19km bike laps will begin on smooth tarmac uphill towards San Antonio before turning around for a fast descent to finish the lap. At the end of the fourth lap, it's back into town and T2 ahead of the run.
Once off the bike and through T2 back at Figueretas Beach, you will head out towards Ibiza Port to take on six 2.5km run laps along the sea front. With plenty of turn-arounds, there will be ample opportunity for you to gauge your progress and get an extra burst of energy from the cheering crowds.

At the end of the run, it's onto the blue carpet and a thrilling finish-line experience in the historic Plaza del Martillo, where you'll earn your medal and bragging rights for having swum, biked and run 100km!
Discover Ibiza
The stunning Balearic island of Ibiza is much more than just a party capital – there's a world of culture to enjoy and beautiful scenery to explore, making it an untapped playground for endurance athletes.
About Ibiza
Getting to Ibiza
Accommodation
About Ibiza
A Mediterranean Paradise
Ibiza is a Mediterranean island located off the eastern coast of Spain, known for its stunning beaches, breathtaking scenery, and vibrant nightlife. But it's not just a party destination, it also offers a rich history and culture, delicious food, and plenty of outdoor activities for families and fitness enthusiasts alike.

Outside of getting your fix of professional triathlon action at the PTO European Open, you'll have the opportunity to experience the crystal clear waters and white sandy beaches of Cala Comte, Cala Bassa and Es Vedra. Take in the natural beauty of the island by hiking through the rugged countryside, cycling along scenic routes, or running along the coastline.

Explore the historic Old Town of Dalt Vila, a UNESCO World Heritage Site, and discover the island's rich history. Sample the delicious local cuisine, from traditional Spanish dishes to international flavours.

For families, there are plenty of activities to keep everyone entertained, such as water sports, boat trips, and visiting the island's aquarium. And when the sun goes down, the party starts, with world-renowned clubs and DJs, and a vibrant nightlife scene.

Visit Ibiza and discover the perfect blend of culture, nature, and fun. It's the ideal destination for a dream triathlon vacation.
Getting to Ibiza
Accommodation
LEARN MORE ABOUT THE PTO European Open
Race Entry
Pre-Event Info
Race Entry
When does registration close?
Registration will close once quotas are full.
What is the age limit?
Participants must be 18 years old and above as of 31 December 2024.
Do I have to qualify to race this event?
No, the 100km race is open to anyone aged 18 or over who wishes to take part
I am unable to race. Can I transfer my entry?
Yes. See refund policy
Can I get a refund?
Yes. See refund policy.
I'd prefer not to disclose my gender, is that OK?
Sure. In this instance your result will be part of the overall ranking, and not appear in either the men's or women's results.
Pre-Event Info
Contact Us
Any questions not answered by our FAQs? Want to enquire about corporate team entry? Get in touch with us directly...
Not ready to join the race?
Be inspired by the Pros
PTO European Open 2023
PTO US Open 2023
PTO Asian Open 2023
Canadian Open 2022
PTO Collins Cup 2022
US Open 2022