FOR IMMEDIATE RELEASE
24th September 2021
LONDON, ENGLAND: The Professional Triathletes Organisation today announced the updated PTO World Rankings showing new PTO World No. 1s for both women and men, as Lucy Charles-Barclay and Gustav Iden storm to the top after recent spectacular performances.
Charles-Barclay had the highest single race points total this year, scoring 123.98 PTO World Ranking Points at St. George, where she had the fastest swim, bike and run by a good margin. Charles-Barclay and Iden were both building on good points already in the bank from strong races at The Collins Cup enabling them to move into the PTO World No. 1 spots.
For the men, rounding out the top five are Germany's Jan Frodeno at PTO World No. 2, American Sam Long at PTO World No. 3, Germany's Patrick Lange at PTO World No. 4, and Dane Daniel Bækkegård at PTO World No. 5.
On the women's side, Switzerland's Daniela Ryf is at PTO World No. 2, German Laura Philipp moves up 31 places to PTO World No. 3 by delivering two tremendous performances in Finland and Austria, newcomer to the non-drafting scene, American Taylor Knibb enters the rankings at PTO World No. 4, combining an MVP performance at The Collins Cup with strong races at St. George and Boulder, and Germany's Anne Haug is at PTO World No. 5.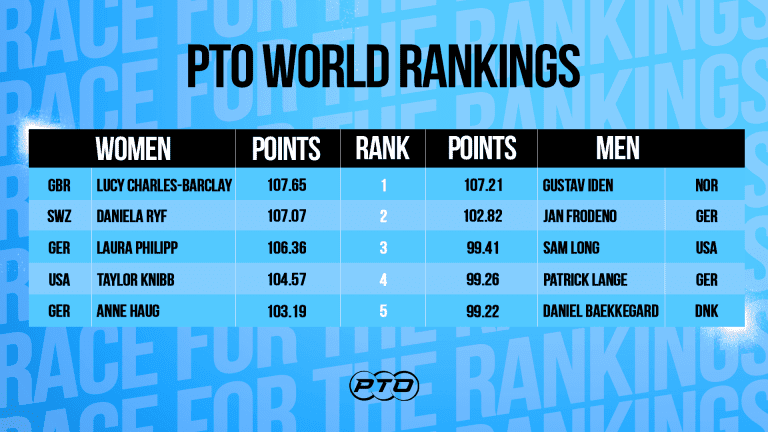 The PTO World Ranking System is based on the average number of PTO World Ranking Points that athletes have earned for their three best races in 2021. Full details here.
The PTO Annual bonuses of $2,000,000, will be paid based on the PTO World Rankings as calculated as of December 31. With a number of races on the schedule, there will be many opportunities and a fierce a battle to move up the rankings.
Charles Adamo, Executive Chairman of the PTO, commented, "The PTO World Ranking system is designed to provide a mechanism to properly compensate PTO Professionals based on their achievements throughout the year, as opposed to having a structure where economics hinge predominately on one or two specific races. PTO Professionals race hard all year, and we want to try to mitigate the situation where if they have one bad race they lose a significant amount of their earning capacity. The adoption of the PTO Annual Bonus Plan, together with the payments at the PTO 2020 Championship and The Collins Cup, means that the PTO have already paid 200 professional triathletes more than $5,000,000 to date with a further $2,000,000 planned at year end. We believe that this demonstrates the value and benefits of professionals being unified in their own organisation and one of the many ways the PTO can bring not only a voice but a meaningful contribution to our sport."
Find the new PTO World Rankings here.
Contact:
Professional Triathletes Organisation
Jane Hansom
Head of Communications
E: [email protected]
M: +44 (0) 7703 481 478