The pro triathlon season jumped into high gear with world-class racing at 70.3 Oceanside plus action at IM South Africa and Challenge Salou.
Ironman 70.3 Oceanside
Jackson Laundry's Breakout Win and A Photo Finish For The Ages! 
After a tough swim and challenging bike course, Jackson Laundry left T2 in close succession with Ben Kanute, Rudy Von Berg and Ali Brownlee who had given up a few seconds to the other three leaving him 10-20m behind, which he quickly made up! 
Kanute was the first to fall behind, then Laundry the next to (temporarily) drop back, leaving Von Berg and Brownlee at the front until Von Berg too could not keep up with Brownlee's hot pace in the early stages. 
It wasn't long until Laundry made his way back to Von Berg, swiftly dispatching him to move into second. Laundry did not stop there though… It wasn't long before Brownlee was in the Canadian's sights with the gap growing smaller and smaller until it had disappeared altogether. Brownlee turned to Laundry as the two came level and was clearly less than pleased by Laundry's presence. 
View this post on Instagram
Ensuring the overtake would stick, Laundry ran swiftly away from Brownlee, building a confident buffer to stay away and take arguably the biggest win of his career so far. 
Meanwhile, Lionel Sanders, who left T2 approximately two minutes behind the leaders, had been hunting, running at 1:08 half marathon pace! In the closing kilometres of the run it became clear that Sanders had a good chance of catching third-place Von Berg and perhaps even an outside chance of claiming second ahead of Brownlee. 
Then everything boiled over! Within the final 500m, Von Berg passed a significantly slowing Brownlee, Sanders doing the same moments later before powering up to Von Berg's shoulder. It was on! An all out sprint finish for second place saw both athletes refusing to give an inch and in the end, that's what it came down to – a dead heat that could only be decided by photo finish. 
The sprint pace spiked at an eye watering 2:12 min/km as these monster athletes barrelled towards the line! Perhaps a repeat performance will be on the cards this August if both Sanders and Von Berg are pitted against one another at the Collins Cup.
View this post on Instagram
Knibb Powers To First 70.3 Victory
In the women's race it was Taylor Knibb's day from start to finish. The young American took her first victory over the 70.3 distance and laid down another clear marker of her rising star in the middle distance world. After leading out the water, Knibb outrode the competition by over two minutes in her first race on a TT bike. 
The 24-year-old then posted a strong run, unchallenged, to take a victory that's bound to shore up her #1 position for Team US.
It was also a strong day for Brazilian Luisa Baptista who had already shown early season form with two wins from two in 2022 so far. With a run split bettered only by fellow Team International hopeful Ashleigh Gentle, Baptista ran her way into second behind Knibb.
View this post on Instagram
Baptista recapped her Oceanside race for us on Instagram which you can watch above. Brazilian Baptista found real benefit from the beach start given her swimming prowess and once it came to the bike she thought she'd roll the dice and try something different to maximise her podium chances.
This awesome performance will see the Brazilian take another jump up the rankings and also put her in the ballpark for Team International Collins Cup selection.
Holly Lawrence also had a stellar day in Oceanside. The California-based Brit was fourth over the swim and bike legs then rounded out the podium fighting through painful blisters on the run, having opted not to wear socks to save her valuable time in transition.
Ironman South Africa
South African Men Sweep The Podium
The first full distance race of the season certainly did not disappoint with the racing action that unfolded. A swim shortened to 700m due to rough sea conditions saw the men and women through T1 and onto their bikes in well under 15 minutes. The challenges of the cold, wind and rain more than made up for the shortened swim. Making the podium would be down to not just which athletes boasted the strongest muscular endurance but those who could deal best with the conditions.
Joe Skipper, the men's favourite going into the race, experienced a small mechanical issue during the bike leg that cost him some time. However, Skipper overcame this setback to ride the fastest bike split of the day and start the run in the leading group. 
Skipper was not able to maintain the pace of the South African trio of Kyle Buckingham, Bradley Weiss and Matt Trautman and dropped back to fourth. But was it over exertion after his mechanical on the bike or thoughts of saving himself for St George World Championships in a month's time that saw him post 'only' a 2:45 marathon?
South Africa didn't provide quite the same explosive finish as the Sanders/Von Berg sprint-off in Oceanside the day before but winner Kyle Buckingham and second place Bradley Weiss were separated by only 19 seconds. Weiss had geen gaining on Buckingham in the final kilometres and had his countryman in sight but Buckingham was able to force every remaining ounce of remaining speed from his body to take his first win since 2018. Keep this form up and Buckingham and Trautman could threaten to break into Team International. 
Bleymehl is Back
Daniela Bleymehl's return to racing started with a disappointing DNF in Dubai, however, South Africa changed the tide for the German who did not race throughout 2020 and 2021 while she was on maternity leave.
Out of the swim in third and having rode away with a bike split nine minutes faster than the competition, Bleymehl's closest competitors as the women started the run were World Triathlon Long Distance World Champion Sarissa De Vries and Susie Cheetham. After strong starts in the marathon both De Vries and Cheetham unfortunately faded and eventually retired while Bleymehl stayed strong to take victory.
Elena Illeditsch finished second, 10 minutes behind the winner, to make it a German one-two followed by South African Magda Nieuwoudt in third, making it a powerful day for South Africans at their home race across the board – and a signal of the nation's strength for Team International's captains to take notice of for the Collins Cup.
Challenge Salou
Challenge Salou's swim, like South Africa, could not go ahead as planned but in this case the entire first leg of this Spanish event had to be cancelled for safety reasons. That left a 4km run, 90km bike and 21.1km run to contest in duathlon format.
Langridge Bags Early Season Win
In the women's race after the fast and furious run in place of the swim, the trio of Lisa Nordén, Fenella Langridge and Els Visser established themselves as the front runners on the bike. Some narrow technical sections on the bike course had the three vying for position to avoid the surging that comes after bunching up around the tight turns.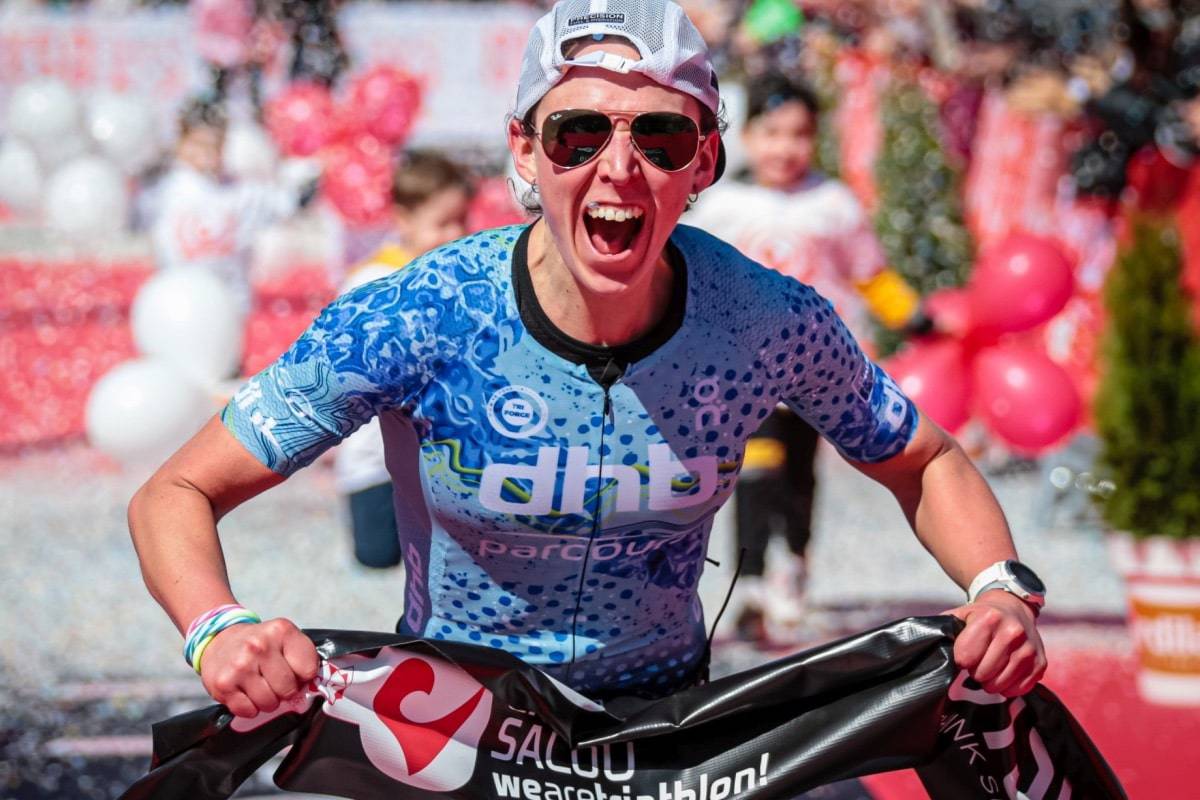 Once onto the run, Langridge put time into both Nordén and Visser, with Nordén falling significantly behind to eventually finish in fifth place. Langridge stayed strong throughout to take the win with Visser finishing second and India Lee rounding out the podium having run the fastest half marathon split of the day. 
Hogenhaug Runs To Victory
In the men's race it was an equally, if not more, chaotic start with 57 male athletes jostling for the lead over the 4km run. With little to split them by T1, things were just as frenetic on the bike with everyone aiming for the front and no-one wanting to be caught out, meaning lots of surges putting athletes under pressure. 
Kristian Hogenhaug showed strong form, clocking the second fastest bike split – Robert Kallin outdid him by just 13 seconds. Hogenhaug led out of T2 and stayed away, taking the tape and his first win of 2022.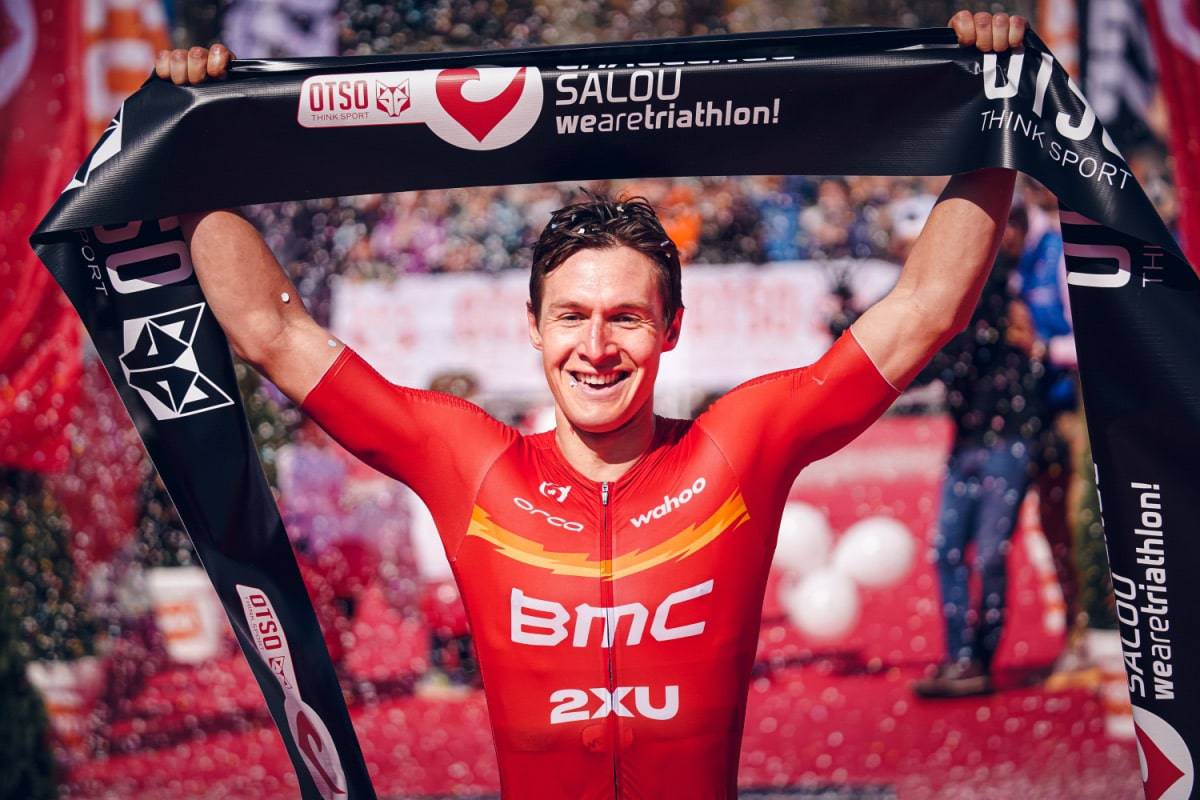 Spaniard Roberto Sanchez Mantecon ran the fastest half marathon of the day to finish second, 43 seconds behind Hogenhaug and only six seconds ahead of third place finisher Emil Holm.